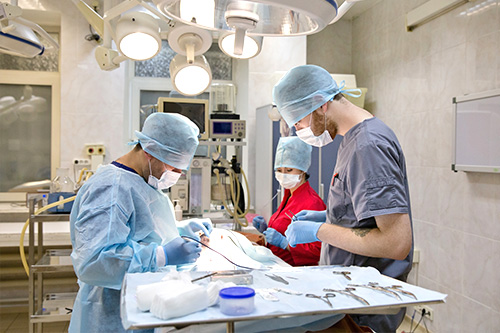 Eastport Animal Hospital was founded by Dr. Brian Howard with the goal of offering our patients the highest quality veterinary care possible. Our facility has a state-of-the-art surgical suite. We incorporate the latest technologies, equipment, and medical advances.
Our highly-skilled and licensed medical staff are dedicated to making your pet comfortable before, during, and after surgery, and will ensure that pain management is part of the process every step of the way.
Our Surgery and Procedures-Anesthesia Philosophy:
We use only use high-quality, low-risk anesthesia to ensure the safety of your pet. Prior to procedures requiring anesthesia, our patients receive a thorough physical examination and a preoperative blood panel to verify overall health and identify any anesthetic risks.
We always take the necessary precautions to ensure a safe surgery and comfortable recovery.